I love Christmas. I'm with Shanna on this one. I can't help it! I listen to Christmas music sporadically throughout the year. The ENTIRE year. I don't know what's wrong with me.

Funny story. I started working at Hallmark the summer before my sophomore year in college. I know everyone makes fun of Hallmark for producing mass sentimentalist sap, I know; I used to be one of them. When I started there in July (right before their huge yearly ornament debut) all my friends and family made fun of me for working in a store so often frequented by overly hormonal women and men looking for last minute gifts for their girlfriends and wives. I think it took only a month for my coworkers to dub me "The Scrooge." And I was. I worked at Hallmark for just short of 4 years, and I hated every Christmas and Easter and Valentine's Day (Oh, Valentine's Day, How I Still Loathe Thee!) I had to suffer through. Then, a year a half ago, I started dating this guy:


And my hatred for Christmas dissolved away into a big soppy love mess on the floor. Seriously. It was, and still is, completely pathetic and goopy and sugarysweetieloviebunchie of me. I can't help it. Something about being in love with the best guy in the universe does that to me. (See? I told you something about him makes me completely bonkers.)

So, imagine my delight when I started seeing festive little badges for Chubby Chick's Christmas Challenge! They look like this----->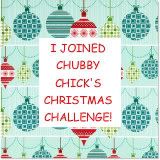 And as I looked over the Challenge, which is oh-so-adorably-decorated, I really considered adding my name to the list of participants. I really did! But then I remembered how I not-so-gracefully kept forgetting to check into ThinkingThin's Summer Challenge (I'm so sorry!), and I realized that official group challenges are probably not the best for me. Personal goals? Oh yeah. I think it's the remembering to check in that gets me. I so rarely remember to weigh-in regularly that the organization factor (and it's totally necessary for challenges) gets me every time.

So here's what I'm doing. I'm supporting all the cool people at Chubby Chick's Christmas Challenge in full on Christmas spirit. And I'm following along on my own, when I remember to weigh-in. My Goal? 15 lbs lost by Christmas. There are 15 weeks left until then, so it's not completely undoable. Based on my weight loss trends, a pound a week is high for me (I usually lose about a half-pound in a week), but why not shoot for the Christmas Star Tree Topper here? If I lose 15 pounds by Christmas, that will put me at 30 pounds lost for the year, which is pretty good, in my book (but yeah, there's been a total gap in my weight loss this year!!!). When I make my goal (not if, not IF!), I'm going to look super-fab in all those early-early-morning Christmas pictures. I'm determined. And totally listening to Christmas music right now.